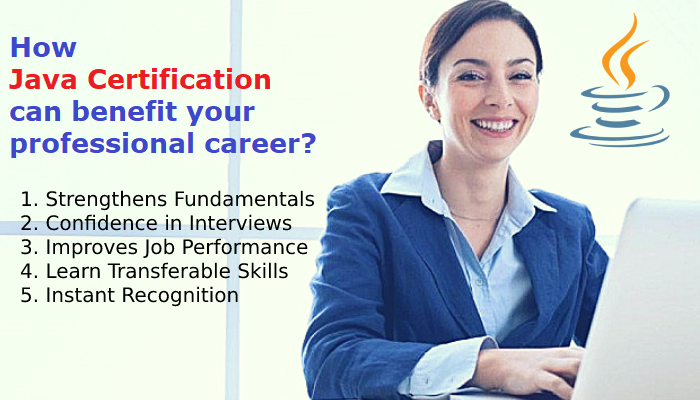 If you have ever wondered, "should I take Java certification exam?" or "Are Java Certifications worth it?", read on.



Many people will try to disuade you from going for certifications. You will hear statements such as, "certification doesn't prove you can program", or "java certification is useless" or "nobody cares about java certifications". You should ignore such naysayers. The fact is Java certifications are a good addition on your resume. Companies looking for interns look for candidates whose basic Java concepts are clear. Oracle Java certifications show that you have learned at least the fundamentals of the Java language and will be able to code correctly.

Also, remember that it is not the paper certificate but the things that you learn while achieving Java certification that make you stand apart. So, make sure you study well for the certification. Don't go for java certification dumps. Use legitimate books and mock exams that accurately reflect the style and standard of real questions.
Benefits of Java Certification
Hones your craft - First of all, if you are trying to find out the dollar increment in your salary or are expecting a job offer after acquiring Java certification, then you are missing the point. The power of the certification is not in the certificate itself but in the learning involved when you prepare for the certification exam.
While studying for Java certification, you learn important techniques that you may not have used before. You learn the logic behind a lot the things that you normally do without knowing the reason. This gives you confidence about your craft and that confidence translates into better career prospects.
Thus, the biggest benefit of Java Certification is that you become better equipped to do your job well and thereby become more productive for your employer.

Builds a solid foundation - Secondly, many students and beginners do not know which topics are critical to learn for a solid foundation and that is why even after reading books and doing sample projects, they fail interviews. They lack the knowledge of what is really considered important. This is where certification helps.
Certifcation exam objectives are designed by experts at Oracle and include all the topics that one should master. Following a book that teaches all these objectives makes sure that you don't miss out on important things, which will be required to know in interviews as well as on the job.

Shows commitment - Finally, certifications show the employer that you are committed towards learning new things within or outsite your area of expertise. Certifcations make your resume stand apart from all others who take no extra effort to master the technologies they are working with.
The bottom line is that nobody pays for mere degrees and certifications. But the Java Certification process provides a structured methodology to acquire useful skills, which is what the employers actually want. It is true that you will be using different libraries, which are not covered in certification exams, in your projects but no matter which library you use, the concepts that you learn while studying for the certification will be very helpful in making good use of the library.
---
Generally, Associate and Professional level Java certifications are regarded as proof of knowledge of a Java programming and Expert level Java Certifications are regarded as proof of specific areas of Java technology stack such as EJB, JPA, Web Services, and Servlet/JSP. Thus, to summarize,
Java certification places you ahead of the job applicants with no certification for Java related jobs.
The Java certification exams test you on Java language fundamentals. Therefore, in job interviews, you are better prepared to answer seemingly tricky and hard questions than other candidates.
The skills gained while preparing for a Java certification will make you more productive on the job.
Real Java Certification Exam Questions and Dumps
Important: Stay away from unreliable and illegal Java certification resources such as exam dumps or low quality mock exams. You will spend more time verifying their answers and explanations instead of learning. Trust us. Our content is of high quality. It is created by and verified by industry experts.