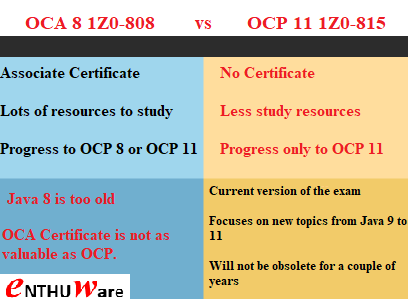 Oracle has released new programmer certification exams for Java SE 11.

However, there has been a significant change in the certification path for

Java programmer certifications

. Earlier, there were two certifications that you could acquire by taking two exams -


The

Oracle Certified Associate (OCAJP) Java 8 Programmer certification

(code

1Z0-808

) and
The

Oracle Certified Professional (OCPJP) Java 8 Programmer certification

(code

1Z0-809

).

But now, Oracle has renamed the certification for Java 11 to

Java SE 11 Developer certification

. To acquire this new Java 11 Certification, you still have to take two exams -


Java SE 11 Programmer - I exam (Code 1Z0-815)

and


Java SE 11 Programmer - II exam (Code 1Z0-816)

.
Earlier you would get an Oracle Certified Associate Certification if you passed the OCAJP 8 exam but now you will not get any certification if you pass just the OCPJP-I (1Z0-815) exam. You will have to take the second exam i.e. the OCPJP-II (1Z0-816) exam as well and then you will get just the one "

Oracle Certified Professional Java SE 11 Developer

" certification. So, if you want to get just one certification easily and quickly, you are still stuck at the Java 8 version i.e.

OCAJP 8

.

Check out our experience of the OCP Java 11 1Z0-815 exam.